WHAT MAKES THIS COMPANY UNIQUE IN ITSELF
Man and Van Star is based in London and we have been in business
for more than ten years now. This company was set up by two friends who were moving into a new place and found themselves struggling with something they had never done before. And that is packing up their stuff. They realized how it takes a lot of technique and expertise to pack each item according to its nature. Then they struggled with finding an appropriate van that was large enough to accommodate all their boxes. They found it so hard to rent a van and when they finally did it was so expensive and they had to load all their boxes themselves. In short the whole experience was really unpleasant for them and forced them to wonder why no company is offering this service. Give us a call at 020 8746 4391 and ask for details.
With this thought in mind, these two friends decided to set up their own moving service company. With such a simple plan in mind they hired a van and the two of them began learning some basic packing skills. Since the concept was relatively new, with a little advertisement they were able to attract a lot of new customers in their own area. Soon they were having so many requests for their service that they had to expand and accommodate more vans and personnel to assist them with all the customers. This is what led to such a successful and strongly built company that is still proudly known as one of the best service providers in the industry of moving service providers.
Over the years we have successfully assembled a team of workers that have remarkable skills and expertise in their respective departments.
020 8746 4391
We deliver the same quality of work that we did when the company was first set up. Our workers are physically trained and fit to deliver the heavy duty work that it is required by them with ease and integrity. We have a team oriented environment set up at our company that encourages employees to work collectively and deliver higher standards of results. Our employees are given active leisure time during which they compete against each other in playful sports and fitness centers. We are proud of the dedication and hard work that each staff member of ours puts in to ensure the full satisfaction of our valuable customers.
The factor that sets Man and Van Star apart from other removal service providers in the market is that we are open to offering customized and tailored packages to all of our customers. We understand how the needs of each person or corporation are unique from the other and how they have certain time or budget restraints. This is why we are open to customizing our packages in order to uniquely meet the specific needs of each customer. We give each customer individual time and attention. We set an appointment with them first to talk about what their situation is and what they are looking to receive in their package. From there we then design a service package just for that particular client of ours. We optimize the package to ensure that the removing job is complete well before the moving date of the customer. This is also designed keeping in mind any unforeseen events like traffic jams or weather conditions that can cause delays.
Finally we also offer our customers superb storage facilities to cater to any of their belongings that they cannot take with them immediately due to space constraints. We have top notch storage facilities that are fully secured with the best burglar alarm systems and cameras that are constantly monitored. Just call us at 020 8746 4391 for more information.
Man and Van Star has been in business now for 10 years and has developed into a major company in London and the surrounding areas. We offer a range of services to help in all situations from domestic to business needs. You can trust us completely to supply the best man and van service in the area. We have experience and knowledge and know what our clients want from us. Our secret is listening to you, and improving all of the time. In terms of quality and standards ours are the best because we pay attention to what you want from a moving service. Our emphasis is on a quality service at a competitive price. You can rely on us to provide a top rate service. Our staff is skilled and hardworking and will help with additional services such as assistance with loading and driving. You can have confidence in us that we will supply the best man and van service in and around London and areas within the M25.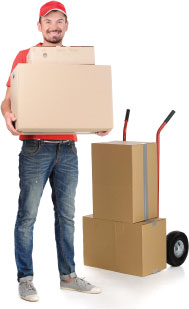 Our professional teams of movers are trained to execute any kind of removal according to the requirements set by the National Guild of Removers & Storers.

Our mission
We aim to please and our continual success is from always providing a top quality moving service. Our workers are friendly and hard working and will help supply you with what you want at a price we know you will like. You can rely on us to supply the best quality van service that is regularly maintained and serviced for your total assurance.

Our commitment to our clients
>We want you to use us again and tell all of the people you know about our reputable and reliable we are. Customer satisfaction is high on our agenda. We understand that you want the best service at all times and that is what we give.

Our Commitment to the atmosphere
We are dedicated to taking care of our environment and will hire the most suitable man with van service to cater to your needs. It is important to us and our business to always be on top. We use the latest models that are energy efficient. You can rely on us to take all of the necessary precautions needed to preserve our planet, from recycling to preserving fuel consumption
For more details about our outstanding removal services in and around Greater London call us now
020 8746 4391
Man and Van Star
9 Greyhound Road, Hammersmith,
W6 8NX, United Kingdom
020 8746 4391